About
History and Leadership
Everett Bacon: EV-Rite Tool Founder
EV-Rite Tool, Inc. began as an All-American Dream from a small-town man in his mid-thirties. 
In 1966, Everett Bacon began machining parts out of a two-car garage on Bartlett Street in Westfield, Massachusetts. With hard work, craftsmanship and dedication to make dependable parts from quality materials, Everett developed a reputation for delivering what people needed. "EV" earned a following for always making the "RITE" part.
Treated fairly and with respect, customers provided EV-Rite with opportunities to make fixtures, custom and stock parts.
Eugene Bacon: EV-Rite Tool President
As the company grew so did Everett's family and in 1978, Eugene Bacon came to work for his father. Gene demonstrated a hard work ethic and the technical skills to become the next generation of leadership for the company. Working from the bottom up, he acquired responsibility for managing both the shop floor and the day to day operations of the company. 
Gene continued to maintain the high standards that EV-Rite Tool built its reputation on, while adding new techniques, equipment and overseeing the development of skilled personnel. The second generation of the Bacon family took the company to the next level.
Jeffrey Bacon: EV-Rite Tool Shop Manager
Having seen the benefit of growth through family involvement, a third generation entered the business in 2000. 
Jeffrey Bacon joined the company as a CNC programmer, set-up technician and operator. Much as his father and grandfather had years before, Jeff learned the trade from the ground up.
Jeff has now grown into the shop manager - overseeing production schedules, programming and maintenance of machinery, tooling selection and upkeep, operating and supervising program cycles as well as training of machinist staff.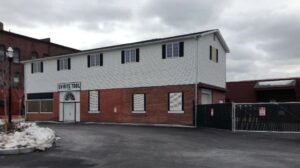 From humble beginnings, the company expanded and by 1971, EV-Rite Tool relocated to its permanent residence on Elm Street. Encompassing two floors, modern offices and a production floor of over 10,000 square feet, the company continued to service customers both large and small with its unwavering commitment to excellence. By the early 1970's, EV-Rite Tool included among its customers Hoover Universal, the premier manufacturer of multi-nozzle low pressure injection machines in the structural foam industry. Everett worked with Hoover on the design, development, and improvement of parts for structural foam including machine components, tooling, injection parts and nozzles.
In 2018, we completed the process of aggressive upgrades to our CNC capabilities, auxiliary and support equipment and tooling technologies.  Today, we continue to expand and improve welding, assembly, reconditioning and warehousing.
True to our roots, EV-Rite Tool remains customer focused while striving to differentiate through modernization and invention. With 53 years of continuous operation, our success is measured by the positive response and loyalty of our customers; and our future is defined by the drive to match innovation and development to our clients' great needs and challenges. With experience dating back to the infancy of the industry, we use our historical perspective to constantly look for ways to improve quality, design and delivery.
Beyond our wealth of knowledge in machining and welding techniques and material selection, we have over a century and a half of experience in the structural foam molding environment. In addition, our team includes professionals with proficiency in industrial heating applications, hydraulics, pneumatics, electrics, wire and cable and controls. With a diverse background across many industries, we pull from outside the structural foam industry and explore solutions and advancements that might further enhance our customer service, satisfaction and success.